Villa Sandahl – Badacsony Wine Region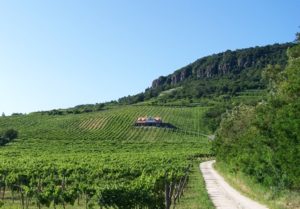 Villa Sandahl Winery has been producing wine from high up on the volcanic hill Badacsony on the northern shore of Lake Balaton since 2004. Right from the beginning they focused on producing excellent quality wines.
Villa Sandahl cultivates around 10 hectares of vineyard on the most premium Badacsony vineyards. The soil of this part of the hill consists mainly of volcanic stones (basalt, carbonate rocks, loess), and its typical mineral nature is perfectly expressed by their Riesling wines. The exceptional microclimates of Lake Balaton, the local micro-climate and the winemaking technology and philosophies taken from Alsace combine to create their unique and inimitable exciting style: rich, mineral, fragrant, elegant and full-bodied Sandahl wines.
Environmental consciousness with low yield vine-growing, very late harvest with as gentle as possible grape processing and very cool fermentation are typical here.
Their wines have been awarded golden and silver medals on several occasions at Decanter and Riesling du Monde international wine competitions.
Visit their website here.
Villa Sandahl: Magic Rain, 2011