Christian Sandahl about Riesling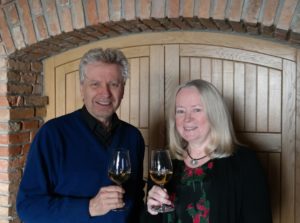 The Riesling grapes get so much better by lowering the yield. There is not any special yield which is the best, the lower yield the better get the grapes. Now we have a yield varying between 2.5 and 4 tons per hectare. When we are present on many more markets, and can sell more wine, I think that an optimum yield would be 5 tons per hectare.
In Mosel there is shell limestone, in Wachau there is gravel. And in Badacsony we have Basalt sand with some lime. From what we see Riesling goes extremely well with the Badacsony soil.
But we also have developed a totally new and own wine style, which can be hard to distinguish from what comes with the grapes.
Badacsony is in fact a little too warm for most white grapes, so there are seldom any problems to get the grapes to ripen.
This is the reason we have Riesling, because it can better stand the heat. It has higher acidity to start with and the acidity doesn't drop so fast with excessive heat.
We have applied a high quality process from Alsace. We ferment in as many tanks as possible, to be able to blend a portfolio as late as possible.
We press whole clusters in an ordinary balloon cylindrical press. During pressing we continuously taste the juice and direct it to 4 different tanks. In this way, we get 4 different quality juice fractions from each pressing. We also try to press each vineyard separately, to preserve its character.
We use no maceration, but it would be funny to experiment a little with this.
When we started to make wine in Hungary we simply decided we should make the best possible quality wine, to get it sellable in the whole world. So we were happy to find world class vineyards, we were entrepreneurs, and we had some money, but not too much.
It is now very interesting to see how our wines are being received. Bortársaság sell more and more, to an amount we could not dream about. The Michelin 1-star Restaurants in Budapest love us, and ask for lofty prices. When it comes to journalists, wine critics and wine competitions we are often misunderstood. Judgements from Decanter and Riesling du Monde are quite possible to understand.
But form many tasters our wines are simply too ground breaking to be understood.
If well threatened, Riesling simply gives a very interesting wine.
If you care for the vines and are careful in winery, it gets a mild and elegant flavor, and a rich and full-bodied taste.
We are convinced that Hungarian Riesling (and of course a lot of other wines too) can conquer the word.
A good first step is to show Villa Sandahl's  wines at VinItaly.