Hárslevelű from Matyasovszki's point of view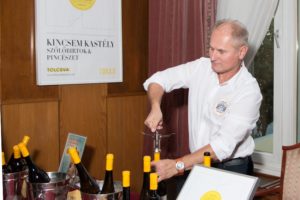 István Matyasovszki, founder of Chateau Kincsem.
Kincsem Castle and Wineyard was found in 2011.  Our first plantation was Hárslevelű and even today half of our vineyards is Hárslevelű, two hectars out of four hectars.  We train it in cordon of medium height, the age of the vineyard is 38 years. The perfect yield of Hárslevelű is between 4- 6 tons/hectar.
Hárslevelű is about fruitiness, finesse and feminity. The variety particularly likes the single vineyard Kincsem, that is  150-200 meters high above see level, it is facing to East- South- and West, it has gentle slopes, leptosol ground rich in minerals based on volcano. Hárslevelű doesn't fit to extremely acclivous, stony soils.
Hárslevelű can be found on several wine regions in Hungary, but it probably has found itself in the Tokaj Wine Region the best. Exceedingly noble rotting in case of proper weather, it tends to rot less than Furmint in case of high precipitation, its wine is about grapes.
Hárslevelű is the wine of ladies. Elegant and fruity with honey aromas and a long finish. And if Botrytis mixes with it, then it is capable of special things.
If we say Tokaj here – and even more so abroad – then everyone thinks of Furmint. I'm not sure that this is good. Winemakers far more experienced, well-known and older than I, say there are few people who can distinguish Hárslevelű wine from Furmint. The soil, aspect and cultivation are at least as important as the variety itself in giving the character. In traditional vineyards it is rare to find Furmint without Hárslevelű.
It is just like a traditional Hungarian family: we speak about the man but the woman decides how things happen. Hárslevelű is not special. It simply has a right to be part of the whole: of Tokaj. Without Hárslevelű, Tokaj would not be as it is. We could make a list: the leaf is different, the cane too, as are the shape and size of the bunch. But these are not what make it special. It is the place it thrives. That is special: Tokaj.