Tiffán Ede about Cabernet franc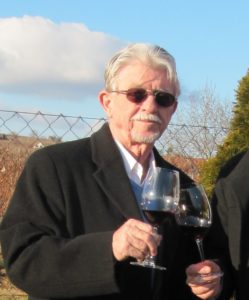 Unfortunately, Hungary became the country of one thousand grape varieties. The wine regions lost their image to which each variety is closely linked. If we look around the world, we find one or two emblematic varieties in each region. The ancient varieties of Villány are Kadarka and Portugieser (Oportó). Today Bordeaux varieties, which have been present in the wine region for 120 years and can thus be regarded as traditional varieties, give the great quality to Villány. At the end of the 19th century, after the phylloxera plague, the Cabernet variety was recommended in Villány and became so much at home that it has been here for 120 years.
I planted the first 100 hectar Cabernet franc in 1964-65 in the Co-operation of the State. It gave its first yield in 1967. After the change of the regime Cabernet sauvignon became fashionable,  the variety spread over Villány wine region. Cabernet franc ripes in the middle of October therefore it produces phenolic ripeness in almost all vintages. Blended with Merlot and Cabernet sauvignon, in bordeaux stlye, great cuvées can be produced.
"Cabernet Franc gives the wine softness and ripe tannins. Merlot adds charm and Cabernet sauvignon puts on spicyness. Villány chose Cabernet Franc as its flagship variety as, while the world is full of Cabernet Sauvignon and Merlot, we feel that Cabernet Franc is our own," says Ede Tiffán, from Tiffán's Winery.  "Cabernet Franc has found its natural home in Villány," wrote Michael Broadbend in Decanter in 2000.