Budafok is the region where Hungarian Pezsgő derives from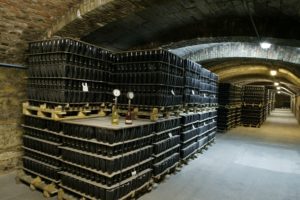 In Promontory they used to cultivate vines even in the Roman ages, and the quantity of vines has been continously growing even during the Turkish reign. After the combats for Buda they recultivated the terroir with red grapes. With philoxera the viticulture had finished in Budafok. In 1885 Promontor changed its name to Budafok. Since that time Budafok has been known as an oenological, commercial and educational centre.
In Budafok there were chalk cliffs from 10 to 20 meters high. The limestones mined there were appropriate for building the houses, so in their place cellar-systems were built, that seemed  to be a good basis for storaging and ageing the wines.
In Hungary the second centre of producing sparkling wine in traditional method became Budafok after Pozsony. In Budafok the traditional sparkling wine has been made for the last 150 years.
The first Sparkling Wine factory was founded in 1882, and in 18 years 6 factories were built. We produced 6-8 million bottle Sparkling wines, that were fermented in bottles. Our first Sparkling Wine factory was established in Pozsony (Bratislava) in 1825. Sadly nowadays our production has fallen to 250-300 thousand bottles per a year. Germans started the production after us, in Spain  they founded the first factory in 1872, today they produce around 220 million bottles of Sparkling Wine. In Franciacorta they started to produce bottle fermented sparkling wines around the middle of the '80s. Today they produce 40 million bottles per year.
At the beginning of the XXth century the second most prestigous sparkling wine producer country was Hungary.  We had more than 40 factories.
It tells a lot, that Hungary imports only 50 thousand bottles of Champagne in a year, while Austria imports 1,3 million bottles.  While we produce some hundred thousand traditional method sparkling wines, Australia produces 8-10 million bottles.