Tamás Kovács about Olaszrizling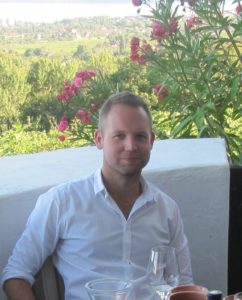 Szent Donát Winery was founded in 2001, but the father's side of the family has lived in Csopak for more than 200 years, and they have been cultivating the grapes first of all Olaszrizling. Now it comes from 6 hectars having the biggest portion of our sortiment. Its ideal yield for excellent quality is 1-1,5 kilo per stock. The summer in 2015 was hot with high yields, balanced wines with nice content were produced. On lime soil Olaszrizling produces the caracteristics of the variety like salty, minerality, citrus, green apple, tight acid structure, nice content, outstanding balance.
To receive an excellent Olaszrizling it is absolutely necessary to define the proper time for harvest. In hot summers Welschriesling, unlike for example Furmint, tends to lose its acids.  For a good Welschriesling it needs to be macerated, pressed gently, fermented spontaneously, matured in used oak or in pyrogranit. Spicy aromas from a new oak can easily take over the otherwise neutral aromas of the variety but microoxidation does it good.
Olaszrizling is a variety that can be produced safely enough providing easy drinking wines in the problematic years so consumers trust in it even in the basic cathegory they are rarely disappointed. In outstanding terroirs of which lake Balaton is bounding interesting wines can be made which reflect the caracter of single wineyards and highlight the reputation of the variety.
Therefore consumers search for Olszrizling either for a festive meal or a simple weekday dinner.
The world market interest is drifting towards lower alcohol level, nice acidity ,moderate using of oaks and easy drinking focusing in indigenous varieties and teroir wines.
This style supports the caracteristics of Welschriesling and is a definition of the classic "Riesling of Csopak".  However there is a well defined fan club of concentrated, full bodied white wines made from high sugar level grapes, more and more consumers are looking at the labels searching for more elegant wines with lower alcohol level. In conclusion Hungarian taste is getting closer to international trends.
Here you can see a short video with Tamás Kovács.