Szászi Estate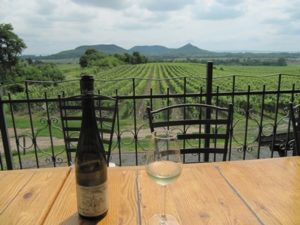 From Endre Szászi it is a viticulturist-winemaking family. They work in Badacsony Wine Region.
The estate has 20 hectares in Szigliget, Szent György Hill, Csobánc and Lesencetomaj. All the land is cultivated in an ecologically friendly way so the grapes are organic. The varieties are Olaszrizling, Kéknyelű, Rózsakő, Zeus, Zenit, Szürkebarát (Pinot Gris), Otonell Muskotály, Cserszegi Fűszeres, Cabernet Sauvignon, Pinot Noir, Cabernet Franc, Csókaszőlő. His wife designs the wine labels and also the person who first thought of changing to organic cultivation. The uniqueness of this organic winery is that they carefully nurture their vines, every second row is under grass and they only spray with copper and sulphur. They also use their own yeast so that the distinctive flavours of the terroir and notes of the vintage can appear clearly in their wines. There is a 300 m2 terrace above the 400 m2 cellar, plus a 100 m2 tasting room where they offer excellent food alongside their superb wines.
Visit their website here.