Endre Szászi and Kéknyelű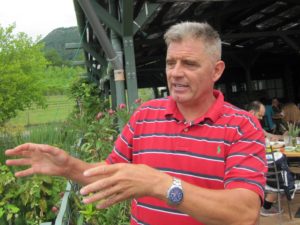 This ancient variety of the Badacsony Wine Region, which just survived Socialism, is grown on around 50 hectares. It is only really worth presenting it to the premium HORECA segment.
In Hungary Kéknyelű has exceedingly high prestige as this variety is the most suitable for presenting the volcanic terroir. In good vintages it gives extremely high quality. It can be bottle aged for a long time. Since it is not suitable for making mass wines, there is only a slim chance that some tastes a bad quality Kéknyelű.
I have been making Kéknyelű in Szászi Estate since 2007. First I was buying the grapes. I planted my first 1 hectar Kéknyelű at 2010 which first yielded in 2014, one more hectar is going to yield first time in this season.
The ideal crop of Kéknyelű is 1-1,5 kg/vine. It is really sensitive to draught, it prefers clay soils, soils with good water balance and slopes facing south or southt-west.
Our Kéknyelű is planted in brown forest soil. Our proper plantation is young, but already can be seen that each vintage produces quality above par, but it gives outstanding quality only in the best vintages.
To receive outstanding Kéknyelű it is important to harvest by hand when it has the proper ripeness. Usually we don't do. We do cool fermentation, spontaneously in stainless steal. New oak is not good for the variety we age  it in 5-600 liter used oaks.