Mészáros Winery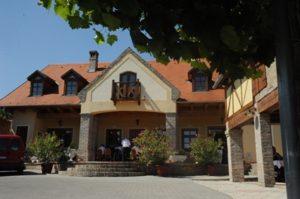 The Mészáros family cultivates 120 hectares of vineyard in Szekszárd wine region.
Pál Mészáros was voted Winemaker of the Year in 2016. In the same year the winery won the award of The Most Beautiful Wine Estate in Hungary.
They have a wide range of wines, thus they can be present on the domestic and foreign markets, offering more than 10 different types of bottled wine, in addition to the red wines that distinguish the Szekszárd Wine Region. Their winery mainly focuses on fresh, fruity wines, but they also offer stronger, heavier types.
Their 800-m2 cellar is covered by the original 250-year-old brick and is located in the centre of Szekszárd. Besides being a spectacular structure, it is an ideal place for storing red wine. They age their red wines there for 1-2 years in oak barrels at a stable 14 °C. They bottle wine that was aged in cellars built into the loess soil, at optimal temperature and under optimal conditions.
Visit their website here.
Here is the opinion of  Pál Mészáros about Bikavér.