Pál Mészáros's opinion about Bikavér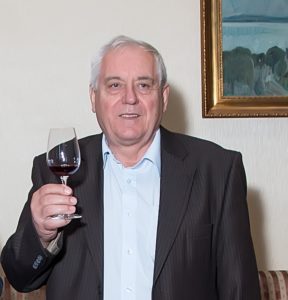 Bikavér (that means Bull's Blood) was first written down in 1846 by Garai János in the "Song of the Wine". After the war it was called "Óvörös, that means old-red, it received is name only after the change of the regime. In former times they used to like the nomintion "Bikavér", they often exported it, always had been Bikavér from Szekszárd for instance in the Dutch Royal Court.
Szekszárd wine region tends to emphasise local varieties.  36 percent of the varieties of Szekszárd is Blaufrankish. World varieties supplement the assets of the local varieties. They set off in the path of style and elegance where easy drinkability is a great virtue.
Many community initiatives have started in Szekszárd, including the Szekszárd bottle in which only our three emblematic varieties will be bottled: Kadarka, Kékfrankos and Bikavér.
Szekszárd Bikavér is made in the classic and premium/reserve categories. The Classic is an easy drinking cuvee; the Reserve a great wine from selected grapes with its own special world of flavours that make it distinct from other blends.
The Szekszárd Bikavér is made from a minimum of four varieties and 50 % must be Kékfrankos and Kadarka, minimum 45 % Kékfrankos and 5 % Kadarka, thus ensuring that the Bikavér is not a blend of Bordeaux varieties. The varieties allowed for the Reserve Bikavér are much narrower than the classic: Kékfrankos, Kadarka, Merlot, Cabernets and maximum 10 % Syrah. The proportion of Bordeaux varieties must not be over 40 %.
Classis Bikavér can  include Merlot, Cabernet franc, Syrah, Portugieser, Mészi Kadarka, Pinot Noir, Menoir. The wide range of the varieties lets the winemaker to be creative.  Classic Bikavér can be launched into the market after one year of maturation, while premium Bikavér has to be matured at least two years.  The yield can be maximum of 14 tons per hectar in case of classic Bikavér, while it can be 8 tons in case of Premium Bikavér. Reserved Bikavér can't be illustrated with the head of a bull and we don't support if it is aged to much time in new oak.
The market likes this blend as Mészáros Winery can sell much more from the Premium Bikavér than similar cuvées and we can sell more Classical Bikavér than Kékfrankos.