Great facilities in Hungary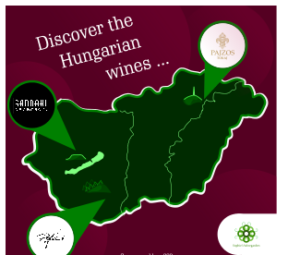 We have 22 wine regions, that are devided into 6 bigger regions.
Thanks to the great facilities in Hungary we can produce all the different wine categories.   In the north-western part of Hungary the climate is cooler, the soil contains more limestone, so we can produce really good sparkling wines with traditional method. At the region of  North- Transdanube (Etyek-Buda, Ászár and Mór).
We are able to produce excellent reductive white wines in the whole region, but mainly in the  upper part of the country because of the previous mentioned reasons.
There are professional white wines, aged for a longer period mainly from the Balaton's region, and Eger, Somló, and Tokaj, where there are more sunny hours, and higher tempreture. Usually the soil contains minerality in this regions, because vulcans used to work there.
We produce lighter, elegante red wines with higher acidity mostly in the northern part of Hungary.
We also have more heavy red wine, which are reach in tannin, and aged longer from Villány and Szekszárd, from the Pannon region. Villány is the so called: Hungarian mediterraneum.
Our most famous wine is Tokaj, the Aszú and other Special Quality Wines, bottled into the traditional dump bottles with a maximum size of 50 cl. They are among the world's greatest sweet wines and are strongly affected by noble rot. The mists from the river Bodrog and Tisza create the conditions in which the Bothritis Cinerea flourishes.
Besides that we produce late harvest wines also in other wine regions.  (Nort-Transdanube, Danube, Eger, Tokaj, Balaton, Pannon)
Eger on the hills south west of Tokaj is the source of the historically full-bodied red wine Egri Bikavér or Bull's Blood. It is made from a blend of grapes and aged in large oak casks in cellars cut into the tufa rock beneath the town of Eger.
Danube: it contains the Great Plan. The biggest wine region of Hungary. Here one can find  good value for money wines.
As you can see, everything is adeguate to prepare excellent wines in all the different categories  in Hungary.  The terroir is perfect, that means the human knowledge, the climate, the soil and the history has lucky encounter with each other.
In Hungary 148 different grape varieties are planted. 67 percent are white  and 33 percent are red varieties. Among them we have several autochton varieties, and also Hungarian crossings and hybrids. Hungarian winemakers use all sorts of exciting and unusual grape varieties besides the international ones.