Tamás Tornai about Juhfark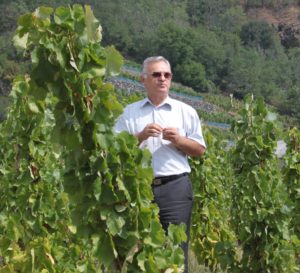 We have been producing Juhfark for 20 years now in 4 hectars at Tornai Estate. The training system is cordon of medium height and we use short pruning.
The ideal yield of Juhfark depends on the winemaking technology, but in general it is between 80-100 quintal per hectar. Juhfark doesn't like if it is controlled in its yield but if the yield is around 50 quintal per hectar one can produce much more concentrated wine of the grapes. It is not resistant to drought. It prefers compact soils with higher humus content.
Juhfark is a variety expressly for hillsides. Bud break is early, among the very first of the Somló varieties. Thus it can be sensitive to late frosts at the foot of the hill. It ripens early, by the end of September. If the weather is not favourable, grapes do not reach their ideal sugar level. Thus the stony basalt ground has great significance.
"Somlói Juhfark is a true speciality of the Somló Wine Region, closely linked to the world of emotion of the local grape growers. Most ampelography experts regard it as a Hungarian endemic variety as it is only known in the Carpathian Basin. Here on the hill many make Juhfark, and each is lovable for different reasons: it can be reductive, with residual sugar, even sweet, and it can be a huge-bodied wine kept in barrels for several years. None of the varieties that favour volcanic land are capable of this wide repertoire and, of course, the shared volcanic flavours of Somló Juhfark appears in each. The conditions here reflect Somló Juhfark practically 100 %. This is the variety whose volcanic, slightly salty flavours with vibrating acidity make it best understood. It can be serious with barrel aging, matured to oiliness, but it can also be an extremely exciting wine with vibrant taut acids and low alcohol – the inimitable Somló character is there in each and every one."  – said Endre Tornai founder of Tornai Estate.