Vencel Garamvári about Furmint
Vencel Garamvári, founder of Garamvári Estate is talking about Furmint.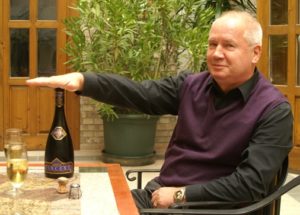 "Now I have 2,5 hectar vines of Furmint, that I planted two years ago, and it developes rather nicely. I don't have my own Furmint grapes yet. Even Légli Estate owns around 1 hectar Furmint in the neighbourhood of Balatonboglár. He produces wine not sparkling wine of it. He said Furmint is okey there. He makes also the vinification and the ageing in oak barrels. Furmint is an excellent embodiment of Hungarian wines and one of the distinctive bases for Pezsgő, Hungarian sparkling wine.
Furmint is an intresting variety and has its own place even in Sparkling wine producing. Not only in Tokaj, but also in the north or in the south part of Balaton and also in other wine regions. It has a medium cropping capacity. If want to use it as a base wine for sparkling wine, we don't have to wait the beginning of October, we can do the harvest in the second half of September around 17-18 sugar degree. This is enough for sparkling wine producing. If we work on nice clone, we did the planting in optimal facing and we don't overload the plantation it gives really nice wine. The optimal loading is 80-90 quintal per hectar. Its alcohol level is around 11 volume per cent,acid level is higher than 7, pH value is under 3,2. The acid content is light, aromatic and elegant. During ageing it conducts as nice as Chardonnay or Pinot Noir.
It can be aged for many years. Furmint has a life of 10 to 20 years, while the Pezsgő can easily be fermented on yeast and stored for 15 to 20 years; it still won't get old. It'll retain its acidity. And thus we can make sparkling wines with an interesting world of flavours for which we naturally have the techniques and technology.
This is based on base wine. At the same time mistakes are not allowed nor during the base wine, neither during the sparkling method. It is important, how we make the fermentation, the clarification, the bottling. We ferment it at a low temperature, in the 11-12 °C cellar, usually for over 3 months. Then we give it at least 24 months for aging, 36 would be even better.
I even have a sparkling wine of Furmint called Furmintissimo. As I  hadn't found satisfying the vintage 2012 from the acid's point of view, I was willing to produce only gassy wine, not traditionally made sparkling wine. It is rather nice, but not like traditional sparkling wine."